I don't often make absolute statements, especially about firearms. There's always somebody out there who did it different and has good results, so even if you know why, it's best to just nod your head and "go along to get along".I don't often make absolute statements, especially about firearms. There's always somebody out there who did it different and has good results, so even if you know why, it's best to just nod your head and "go along to get along". On the other hand, there are some things that just have to be said, and you aren't going to hear them from the normal shooting press, whom I perceive to be generally scared to death of offending anyone who is an advertiser, or might someday be an advertiser. I have quite a bit more freedom than that.
Join the Crisis Application Group today!
Damn the torpedoes, full speed ahead: If you don't know what you are doing, the worst thing you can do to a rifle is shove a cleaning rod down the barrel. That's right. I'm going to fill you in on something that competitive shooters have known for 20 or more years, but hasn't really seemed to percolate out to the general shooting public. You've probably heard that competitive shooters are fanatics about keeping their rifles, and especially the bores, shiny clean. You may have even heard some apocryphal stories about gunsmiths who received rifles that "just wouldn't shoot good anymore" and all they needed was a good cleaning. All of this is at least partially true. But without the right equipment, pushing a discount store cleaning rod down the barrel of your rifle can permanently damage the rifling, especially in the critical throat area where the rifling begins ahead of the chamber and at the muzzle. You can also end up with cleaning solvents leaking out of and under the action, softening the critical bedding areas. All of these things, and more, can ruin the fine accuracy of a perfectly good rifle, just from doing something that you THINK is helpful.
Green Beret moderated forum! $1 a month for unlimited, ad free access!
Damage to the bore is generally caused by the cleaning rod contacting the barrel steel, and the use of some types of bore cleaners can make the damage occur faster. Sectioned rods are out. They just have too much flex in them. Pushing them down the bore with a jag and patch that actually fit will result in the rod contacting the bore. In addition, the sections never fit together absolutely perfectly, resulting in ridges that can pick up carbon grit and/or physically damage the barrel itself. Never ever use a stainless steel cleaning rod.... for that matter, never put anything that's stainless steel in the bore of your rifle. You don't need anything that's anywhere close to the hardness of the barrel steel itself in there. Likewise, don't use uncoated brass or aluminum rods. They can pick up carbon grit or abrasive bore cleaners that can do a very fine job of unintentional lapping. Just ask a machinist what you can do with an aluminum rod charged with grit. [caption id="attachment_664" align="aligncenter" width="500"]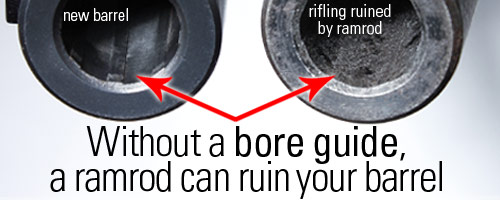 Pic from Gunn Innovations www.spinjag.com[/caption] This is an extreme example, but that's often the best way to illustrate a point. The point is: either do it the simple way, or go whole hog, but don't inbetween it. (I'm not one of those people who advocate never cleaning a rifle. Torture tests are interesting but I was taught to acquire fine tools and then take care of them.) [caption id="attachment_665" align="aligncenter" width="660"]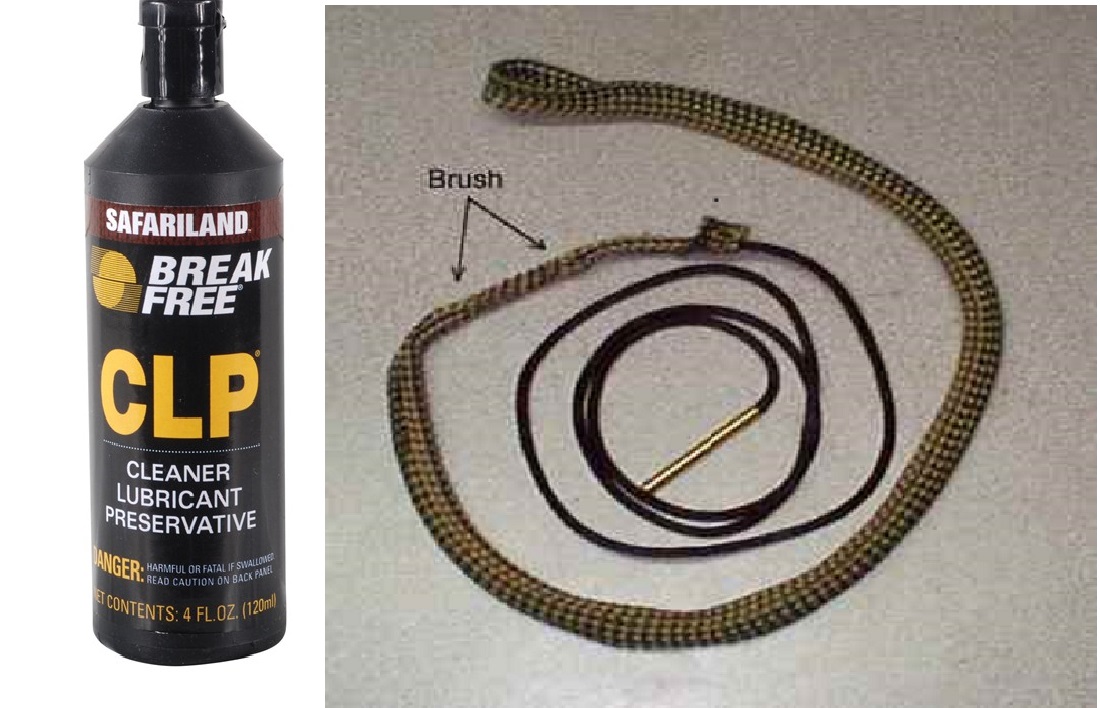 CLP and a bore snake is the fast and easy way to bore clean without damage.[/caption] The simple way is with a basic bore solvent and a bore snake. Squirt a little solvent down the bore, being careful to get it into the chamber and not into the action, and then drop the bore snake weight down the barrel while keeping the bore pointed down. Step on the string end of the bore snake with your foot and pull on the rifle to get the bore snake started in the bore. This procedure keeps the solvent from running back into the action. Once you have the bore sealed, you can invert the rifle and pull the bore snake all of the way out. If you suspect the bore is especially dirty, you can repeat this procedure several times. Before you finish, pull the bore snake through the bore several times without adding solvent, and you are done with bore cleaning. [caption id="attachment_666" align="alignleft" width="300"]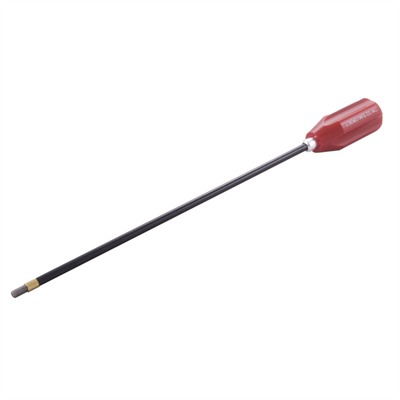 A correct cleaning rod is one piece, coated, has a ball bearing spin handle, and is specific to the caliber of the bore you are cleaning[/caption] This is the correct kind of cleaning rod. It's one piece brass covered in a protective nylon coating, it's caliber specific to prevent flexing, and it has a ball bearing on the handle so brushing and patching tools rotate with the rifling. The one pictured is a Dewey. Boretech also makes some fine cleaning rods. There are probably others but these are the two that I have used, and the ones I see other competitive shooters using. Even with the proper coated cleaning rod, you don't just shove it down the bore. You need what's called a rod guide to hold the rod centered in the bore. For any rifle that can be cleaned from the chamber end (bolt guns and ARs) they can also seal the chamber so solvent doesn't leak back into the receiver. Rod guides are available from a few places but I highly recommend the ones from Sinclair International, purveyors of many fine tools and supplies for cleaning and reloading. [caption id="attachment_667" align="aligncenter" width="400"]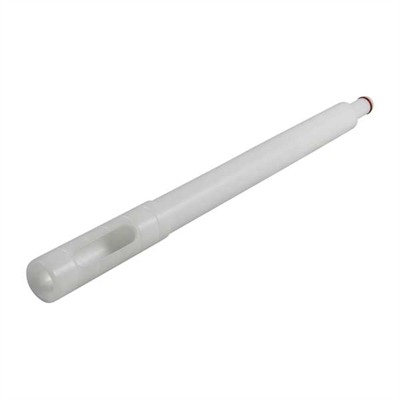 Sinclair bore guides are made of machined delrin plastic with an O-ring seal.[/caption] The bore guide is inserted into the receiver where it guides the rod, seals the chamber, and provides a port to apply solvents, so you can keep cleaners in the barrel and not on your rifle. For an AR platform they also sell some handy little links that hold the receivers apart just right for cleaning. This is how it looks on an AR: [caption id="attachment_668" align="aligncenter" width="225"]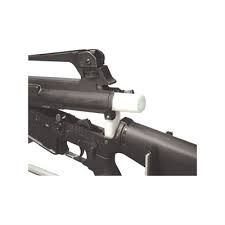 Sinclair makes the bore guide and the link used to hold the receivers apart.[/caption] This is doing it right. The rifle is held so it's slightly muzzle down, allowing excess cleaner to run out the end of the barrel instead of into the action. A bore guide is in the receiver to seal the chamber and guide the cleaning rod. [caption id="attachment_669" align="aligncenter" width="660"]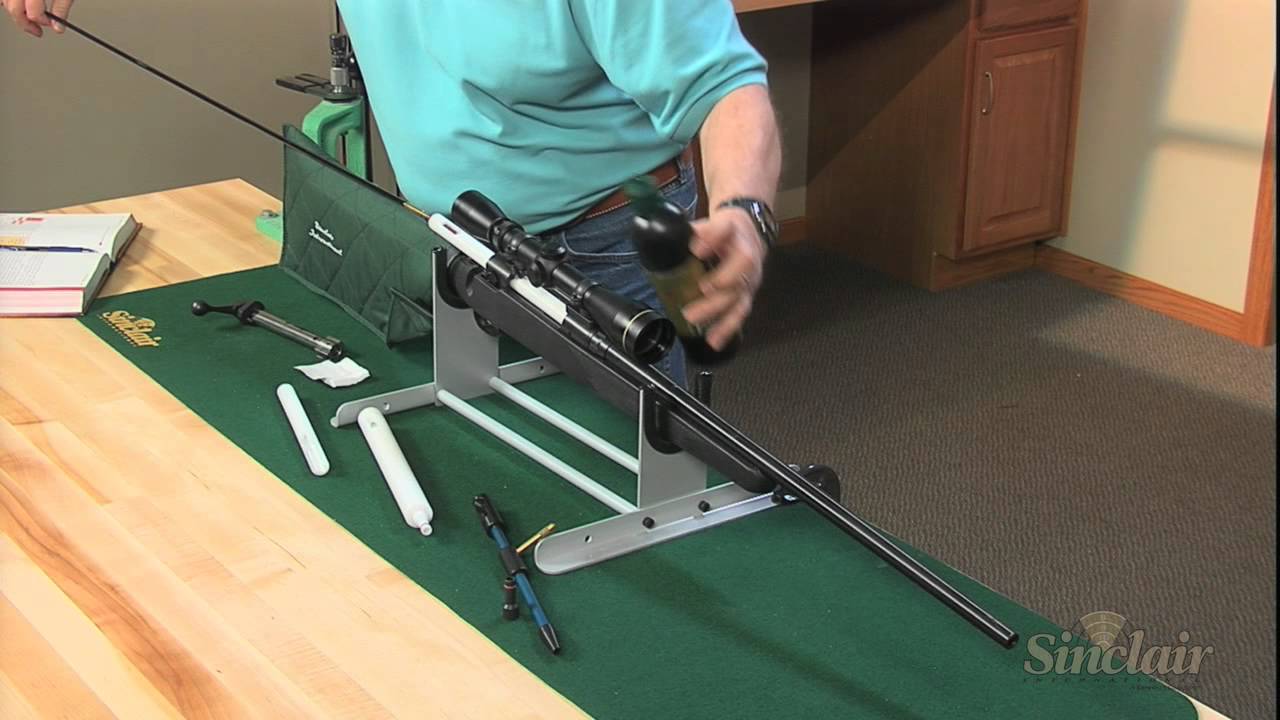 Doing it right.[/caption] In part two, I'll cover the proper process for using a cleaning rod in more detail, including more specifics about brushes, jags, patches, and cleaning compounds.
Last modified onThursday, 20 April 2017 06:31
Latest from Chris
back to top