A couple of months ago I mentioned on Special Forces Preppers that I was building an AR10 platform rifle to upgrade to the .308 cartridge. That project is now finished, although I am still working up loads for it.
 A couple of months ago I mentioned on Special Forces Preppers that I was building an AR10 platform rifle to upgrade to the .308 cartridge.  That project is now finished, although I am still working up loads for it.
I feel it may be helpful to head off the "....but what about....?" replies by running through a short discussion of my criteria for building this particular rifle.  The most important criterion was for a rifle that could function as the primary armament for a squad designated marksman, while retaining some tactical utility.  As such, it needed to stay short and light enough to at least be usable in tactical situations, while still having sufficient power at extended range to be effective at +500 yards versus the standard carbine armament, or around 800 yards overall.  I felt that a mid-length AR10 in .308 Win was the best platform to build such a "compromise" on. And.... the finished product.


---
So let's get right to it, from back to front: Stock:  Magpul PRS.  Stock options on the .308 platform are not wide, and although it's a little heavy, it's not heavy enough to unbalance the rifle.  The ability to maintain a solid, consistent cheek weld with optics that are fairly high above the bore (compared to bolt guns) put this stock over the top for me. Buffer Spring:  I have to mention this separately because no, I don't just use a stock spring, and yes, there is a very good reason why.  David Tubb's CS springs are awesome for many applications but possibly nowhere are they more useful than on an AR platform.  For every reason you would use one on an AR15, it's doubly important on an AR10 just because the volume of gas is so much greater.  If you didn't know:  yes, the buffer spring is an important part of your semiauto gas system. Lower:  DPMS Gen1.  Because it's what I had.  Got a really good deal on a complete rifle, and parted out the upper and other parts I didn't need for basically what I paid for the whole thing.  There are slightly nicer lowers available with larger trigger guards for gloves, but I didn't think it was worth the trouble. Grip:  Ergo Grip.  This is probably a matter of taste, and this is what my taste is. Trigger:  Geissele B-G2 S-E.  I prefer a two-stage trigger for precision shooting. This is Geissele's Enhanced two-stage trigger, which means it has a first stage of 2.3 lbs and a second stage of 1.2 lbs, instead of a total weight of 4.5 lbs like you will find on a LOT of AR platform triggers.  It was expensive, and worth every penny IMO. Upper:  Aero Precision M4.  Yes it's an M4 style upper not an A3, meaning it has the M4 feedramp cuts.  You can't get this in a Gen1 DPMS brand upper. Charging Handle:  An AR platform with a scope on it needs a good charging handle, and the standard ones have problems with the latch that just begs for an upgrade.  I chose the Bravo Company BCM Gunfighter Medium handle.  You can spend a bunch of money on a charging handle.  I compromised in a lot of ways here, this one has an improved, extended latch and was reasonably priced. Bolt Carrier Group:  Alex Pro Armory.  One of the few sources for nickel boron coated bolt carrier parts for AR10 that I could find, and they also use 9310 steel for the bolt (win!).  It's cheaper to order directly from them than it is to buy from Brownell's or Midway. Barrel extension:  I don't know what brand it is, as it was provided by the gunsmith that did the barrel.  All I know is it has M4 feedramp cuts, which is important if you are using an M4 upper. Barrel:  Shilen stainless 18", custom configured by Craddock Precision.  The barrel is ported for a mid length gas system, tapered to .835" from chamber to gas block, then stepped down to .750" at the gas block and same diameter to the muzzle threads, fully fluted fore and aft of the gas block.  I wanted the stiffest, lightest barrel I could get away with without fouling up the balance of the rifle.  Paul Craddock suggested adding the extra meat between the chamber and the gas block and I'm glad we did. Handguard:  Troy Alpha.  I can't say enough good things about this handguard.  It's super light, which lets me put more weight on the barrel where it actually does something.  The accessory rails are easy to install and configure, and I absolutely love the rubber insert "squid grips" that give a slightly larger, slightly tacky surface to index your support hand on for normal positions.  The downside is that you are going to have to pick your gas block very, very carefully to make sure it fits under the darn thing. Gas Block:  JP Enterprises JPGS-5G.  It's low profile, blackened stainless, and adjustable.  That last part is important because I expect this rifle to function flawlessly with both 175gr and 150gr loads, out of an 18" barrel with mid length gas system.  Some ability for adjustment is very handy.  There really wasn't a second choice here. Compensator:  BattleComp BABC.  Not only a compensator with value for reducing muzzle climb, but also a flash hider that doesn't direct any gas downwards, reducing dust signature when firing prone. Cerakote:  Brothers in Arms, Tulsa OK.  A veteran owned business.  Highly recommended. Sights: Flip up iron sights:  MagPul MBUS Scope:  Vortex Viper PST 6.5-24x50 in LaRue SPR1.5 mount.  This optic is being used for load development.  It will actually wear a Burris XTR II 3-15x50 34mm tube optic when they can be bothered to start shipping them. Tactical Sight:  Aimpoint PRO in LaRue quick detach mount. I must mention I went with a swappable optic setup instead of a microsight on a 45 degree canted mount because I want to be able to integrate an NVG monocle with the red dot at a later date. I hope this was informative.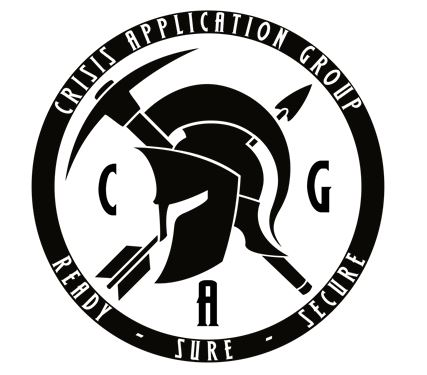 CRISIS APPLICATION GROUP
"READY-SURE-SECURE"
Last modified onThursday, 20 April 2017 06:31
Latest from Chris