Hemostatic Gauze Vs. Non-Hemostatic Gauze... There are many types of gauze on the market to choose, from standard gauze rolls to different types of "Hemostatic gauze", which are impregnated in substances to help stop bleeding. Without understanding the differences between a package of compressed gauze, to Combat gauze, Celox-gauze and Chito-gauze, how they work, or even if they work, it can be difficult to decide which one is right for you and your medical kits. Here's the breakdown:
Our Special Forces medics are discussing trauma on CAG NET!
Plain (Non-Hemostatic) Gauze:  Often called Kerlix, and coming in "Z-fold" or "S-rolled", or even compressed to take up less space, This is a must and a minimum. While this gauze certainly is not as good as the hemostatic gauzes in terms of controlling severe hemorrhage , It's inexpensive and versatile use make it a must. This isn't just for packing a bleeding wound that a tourniquet can't reach, it can be used as simple bandaging, dressings, stabilizing such as a sling and swathe and so much more. For the low-cost, it's a stepping stone towards hemostatic gauze. I recommend at least 2-3, and more in your house/truck kit, for those areas on your body where a tourniquet can't stop the bleeding, or for a little pressure in an extremity that is not a severe enough bleed to warrant a tourniquet. [gallery size="medium" type="rectangular" link="none" orderby="rand" ids="2327,2328,2329"] Hemostatic Gauzes - For arterial bleeding, don't risk having a non-hemostatic gauze as your Primary choice, you and your loved ones deserve the best shot at survival. What you do for bleeding control for the first few minutes is similar whether you are in an austere environment or 911 is just a few minutes away... If you don't get this bleeding stopped, it will eventually stop when the patient runs out of blood. Unlike previous generations of hemostatic gauze, these do not generate heat or burn.  Here's your choices, and how they work:
Combat Gauze:  Combat Gauze is the #1 choice of the U.S. Army Institute of Surgical Research and Committee of T.C.C.C and has earned it's place. It is impregnated with kaolin, which helps the bodies clotting along much greater than using standard gauze. It's got a hefty price tag, but would you rather have a wallet with more money or a heart with enough blood to keep pumping? For a bare minimum medical pack I'd recommend at least 2, because if the first one does not work, you will have to be more aggressive your second time.
Celox Gauze - Unlike Combat Gauze, Celox does not help your body itself clot but creates one. This is because when the it comes into contact with blood it creates a gel. What this means in basic terms is if your patient does not have good clotting factors ( Hypothermia, Medications such as Aspirin, etc.) this is a good choice because it works by itself instead of supporting the bodies clotting process. 3.   Chito Gauze - Chito Gauze does not rely on the bodies clotting process, as well. Instead of a gel, it uses the chitosan and dressing to slow down and stick the blood and platelets to create a clot. Again, for those with poor clotting factors, this is a good choice.
[gallery type="rectangular" size="medium" ids="2338,2339,2340"] These are in no particular order, and I'd recommend all 3 as a good decision. While the Military recommends Combat Gauze as #1, their demographic is healthy young soldiers who likely don't have poor clotting factors. Even then, blood loss can cause hypothermia and ruin their clotting factors, making Celox or Chito-gauze an option as well. Now that you know why and how, you can make an educated purchase. Personally im a fan of Chito-Gauze, but I'm also a reasonably trained medic...
All of these products can be found at shop CAG!
A product is only as good as your training, so if you leave it on the shelf, it won't live up to it's potential in a stressful situation. Have a couple non-hemostatic gauze as "trainers" to practice wraps and packing wounds as free drills to keep sharp. You do dry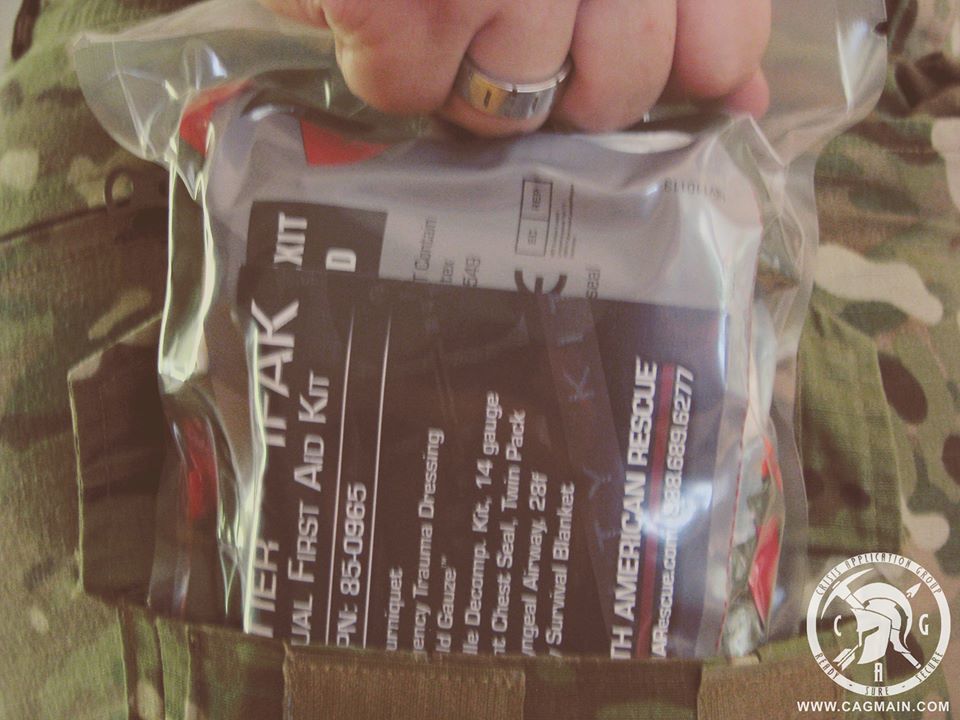 Last modified onFriday, 12 January 2018 10:20
Related items
back to top