[caption id="attachment_2507" align="aligncenter" width="660"]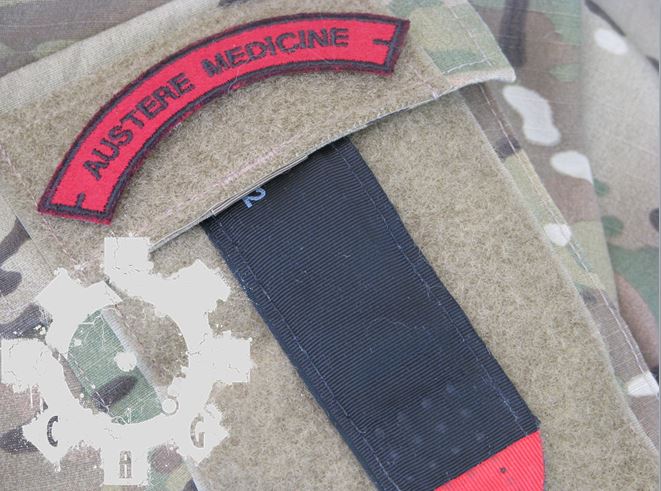 Austere Medicine Tab[/caption] To earn the Austere medicine Tab you have to submit video proof of:
A MARCH patient assessment
Must be in sequence according to

http://cagmain.com/2015/05/14/how-to-do-a-trauma-assessment-for-preppers-graphic-pics/

You MUST verbalize (Say out loud) what you are doing so we can follow along with you
The video in its entirety MUST be under 2 minutes, this includes your introduction stating your membership number
[youtube https://www.youtube.com/watch?v=wNeu6behpWk&w=420&h=315]
Plus your choice of 1 video submission from these topics (Same 2 minute standard, with membership number intro), be creative and practice we aren't giving you the answer for this one:
A CoTCCC approved tourniquet self applied to your arm (one handed application)
A home made tourniquet self applied to your thigh, we will assess the tourniquet you create
a Homemade 3 sided AND 4 sided occlusive dressing to a chest. This looks easy, but we can tell if it doesn't seal.......
Plus submit a picture of your IFAK, it must include:
Your membership number written or printed on a card, no video edits
Your IFAK must contain the items required to treat every category of MARCH.
Manufactured IFAKs are acceptable, BUT they must contain ALL items required for a full MARCH assessment.
Home made supplies are entirely acceptable
Plus submit a copy of any outside medical certification (Current), examples include:
Red Cross First AID
Red Cross CPR
National Registry certificates MUST be current
Combat life saver certificates must be with in 24 months of the issue date
Any state licensure MUST be current
"Other" medical training will be considered on a case by case basis.
Tabs can also be earned and issued by attending:
CAGs

intro to Austere medicine

course
CAG week end tactical Clinic "Austere Medicine"

You must send in a copy of your certificate for credit.....If you've lost it contact us.
Instructions for video submissions can be found on the bottom of this page.
Last modified onThursday, 21 December 2017 11:59
Latest from Jay P.
back to top