Ohio Tactical Clinic 30-31 May2015
Class info for the Ohio week end training clinic 30-31MAY2015 Save a hundred dollars when you buy the weekend pass which gives you access to both the Combat pistol clinic AND the Combat trauma clinic. [caption id="attachment_208" align="aligncenter" width="300"]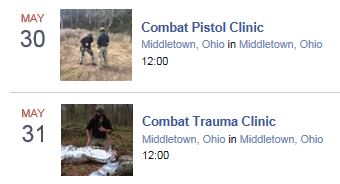 Click here for class details and payment options![/caption]
Combat pistol Clinic: 30MAY2015 Middletown, Ohio (normally $200 per student)
Our intro course establishes the foundation for solid marksmanship fundamentals, and sets the base for your future coursework in dynamic combat shooting with the CAG. We begin with the pistol, as it is the most unforgiving, and focus on: stance, sight alignment, trigger squeeze, trigger discipline, and a safe draw sequence from the holster.
Combat Trauma Clinic: 31MAY2015 Middletown, Ohio (normally $200 per student)
This course is designed to give a non-trained person the basic understanding of what a Special Forces medic might do in an emergency medical event. The student will receive a training Individual First Aid-kit (IFAK) to use during the course and learn how a patient gets assessed. Each student will get hands on experience with everything in an IFAK from start to finish.
ALL STUDENTS:
Bring eye and hearing protection for the range day. Shooting gloves are optional When you arrive, make sure all of your weapons are unloaded and bolts/slides locked to the rear. We don't want a dozen students manipulating weapons in a parking lot. Please do this ahead of time. Bring at least 200 rounds of ammunition (if this is going to be a problem, let us know and we can try to help). Bring some water, there will be breaks but once we start we want to keep training momentum going. Make sure you don't mind getting dirty in the clothes you wear to either training day. Your clothing should protect you from brass and grass burns. Think rugged pants and long sleeves with collars. No shorts or sandals. If you take any chronic medication BRING IT WITH YOU in case of an emergency so we can give samples to any EMS if needed. If you use an allergy pen or inhaler, bring it with you... Bring pencil and paper for any notes. Send an email to
This email address is being protected from spambots. You need JavaScript enabled to view it.
for the actual address to the training site. Its private property so we will only give you the address if you have paid for the class. Accommodations locally:
Hotels with decent rates:
Given the small size of our class we weren't able to acquire any groups rates for this venue. Make sure you book your lodging far enough out to reserve a room. There may be other venues in the area and we cant guarantee space.

 
Camping near Middletown Ohio:

Campground is a 3-4 minute drive from training site.

Free for tent camping and $15 for camper/RV.

Showers available for women. Campground closes at night and this will allow men to use the women's shower after closing.

Please contact

This email address is being protected from spambots. You need JavaScript enabled to view it.

for information.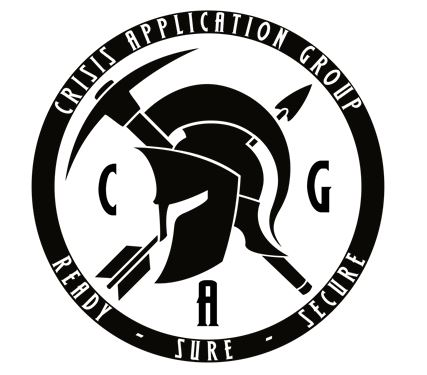 Last modified onThursday, 20 April 2017 06:31
Related items
Latest from Jay P.
back to top